An update on some of the action points that came out of diversity discussions at RIPE 74 - first step, collecting metrics.
---
First, a brief recap:
The discussion about diversity and inclusion within the RIPE Programme Committee (PC) and RIPE Working Group Chairs collective started last year after a question was raised about attracting more diverse presenters. The group realised they weren't well-enough informed about the relevant issues, obstacles and next steps to answer the question. To remedy this, a small group of volunteers from within the PC and WG Chair collective, along with a couple of long-standing RIPE NCC employees, formed a group to work with some diversity-in-tech experts with the aim of wrapping their heads around this very broad topic.
The group responsible for the content of the meetings wanted to better understand diversity in tech issues before opening it up further to the RIPE community, which happened at the next RIPE Meeting - RIPE 74.
You can read more about the background and next steps of the RIPE Diversity discussion here.
Starting to gather metrics 
One of the first action points from the group was to find a way to start collecting metrics from attendees for benchmarking purposes. We did some research about the best way to formulate that question and posted it to the RIPE Diversity mailing list for feedback: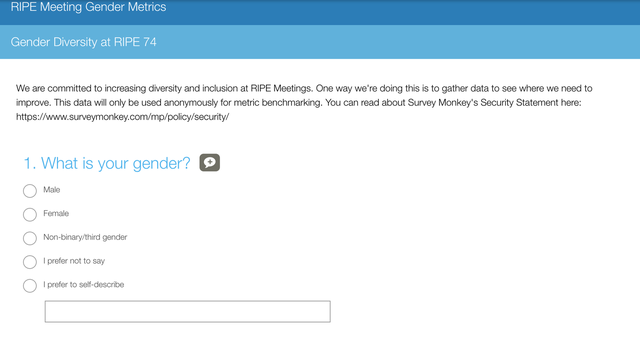 Proposed question for gathering gender metrics during the RIPE Meeting registration process
Taking into consideration concerns raised on the list, we decided to look into asking an opt-in question via a third-party rather than on the RIPE NCC's meeting registration software (which is tied to RIPE NCC Access). Survey Monkey seemed like a good place to look. They have an option to collect survey results anonymously without any IP information being tracked. Here's a short screencast of what happens when someone answers the question:
We also include some explanatory text in the question:
"We are committed to increasing diversity and inclusion at RIPE Meetings. One way we're doing this is to gather data to see where we need to improve. This data will only be used anonymously for metric benchmarking. You can read about Survey Monkey's Security Statement here: https://www.surveymonkey.com/mp/policy/security/"
The proposal to use Survey Monkey was vetted by the RIPE NCC legal team and the RIPE NCC's Information Security Officer.
Join the discussion, join the task force!
We would like to include this question in the registration form for RIPE 75. If you have any feedback on this - or any other diversity/inclusion issues concerning RIPE Meetings - please:
Join the RIPE Diversity mailing list
Volunteer for the RIPE Diversity Taskforce on the mailing list
If you want to be a part of the task force and help shape the charter, please mark your agenda for 27 June at 10:30 (CEST)/8:30 (UTC) for a conference call. More details and an agenda will be shared on the list soon.